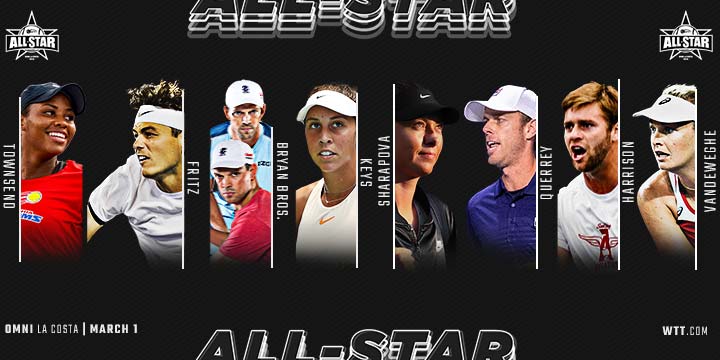 WTT All-Star Match, March 1st, 2020
Five-time Grand Slam singles champion and World TeamTennis veteran Maria Sharapova and 2019 WTT stars Bob and Mike Bryan, Sam Querrey, Taylor Fritz, CoCo Vandeweghe, Madison Keys, Ryan Harrison and Taylor Townsend (2018 WTT Female MVP) are set to play in the WTT Celebrity All-Star Match at Omni La Costa on March 1st.
World TeamTennis will showcase much of its top talent from its 2019 season and soon-to-be-announced celebrities from the tennis and entertainment industries when it introduces the "WTT Celebrity All-Star Match" – a pro-am tennis event on March 1, 2020 at Omni La Costa Resort & Spa (home of WTT's San Diego Aviators) in Carlsbad, Calif. Read more about the event HERE.
Tickets are on sale now at www.WTTTickets.com. Limited seating is available for the WTT Celebrity All-Star Match, and the event is expected to sell out so get your tickets today!