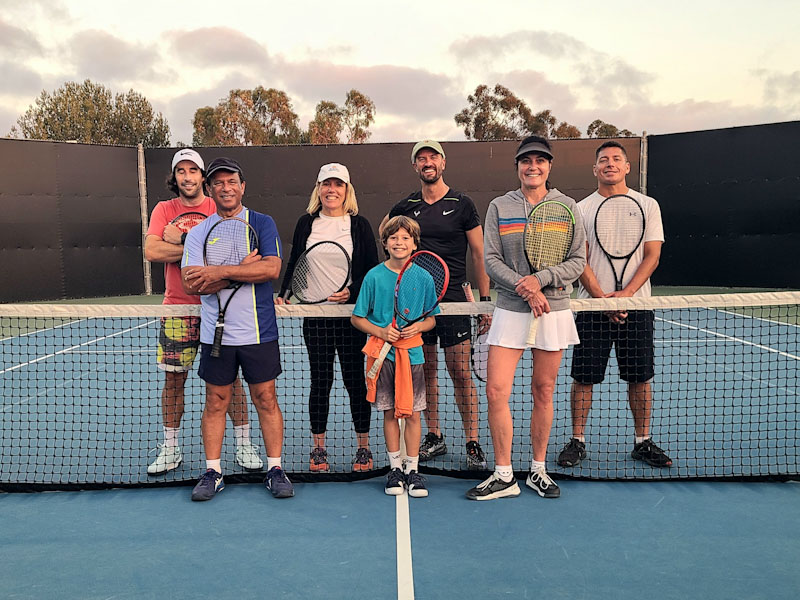 Health Benefits
When it comes to staying active and enjoying a fun-filled workout, few sports can rival the excitement and health benefits of playing tennis. Not only is it a fantastic way to unleash your competitive spirit, but it also offers numerous advantages for your overall well-being. Whether you're a seasoned pro or a beginner, here are some remarkable health benefits that tennis can provide.
Cardiovascular Fitness: Tennis is a high-intensity sport that gets your heart pumping and improves cardiovascular health. The constant movement, quick sprints, and sudden direction changes help to strengthen your heart and improve blood circulation.


Full-Body Workout: Tennis engages your entire body, promoting muscle tone and strength development. The repetitive swinging of the racket strengthens the arms and shoulders, while the lunges and quick footwork work wonders for your lower body, including the legs and core.


Enhanced Flexibility and Agility: The dynamic movements and stretching involved in tennis improve flexibility and agility. The constant need to reach for shots and quickly change directions helps to increase your range of motion, making you more nimble on and off the court.


Improved Mental Acuity: Tennis is not just a physically demanding sport; it also challenges your mental acuity. The strategic thinking, quick decision-making, and hand-eye coordination required in tennis help sharpen your focus, concentration, and problem-solving skills.


Stress Relief and Mental Well-being: Engaging in tennis can have a positive impact on your mental well-being. The combination of physical activity, social interaction, and the release of endorphins helps to alleviate stress, reduce anxiety, and promote a sense of happiness and overall well-being.


Weight Management: Tennis is an excellent calorie-burning activity that can aid in weight management. A one-hour game of singles tennis can burn up to 600 calories, making it an effective way to maintain a healthy weight and body composition.


Social Interaction: Tennis is often played in pairs or doubles, providing opportunities for social interaction and fostering connections with other players. Engaging in a sport with others can help combat loneliness, improve social skills, and contribute to a sense of belonging.

Playing tennis is not only a thrilling and enjoyable sport but also a powerful catalyst for numerous health benefits. From cardiovascular fitness and full-body toning to improved mental acuity and stress relief, the advantages of tennis extend far beyond the boundaries of the court. So, grab a racket, find a partner or join your local club, and experience the incredible physical and mental rewards that come with playing tennis. Your body and mind will thank you for it!